Hi-Speed is proud to be a Member of TPN – THE Pallet Network. TPN is the UK's leading pallet network, with more than 100 Members and over 120 sites throughout the UK. Together with TPN, we offer excellent service levels for next-day, timed or economy deliveries for any palletised goods.
We handle full, half or quarter pallet sizes, and you can see the dimensions on the images below.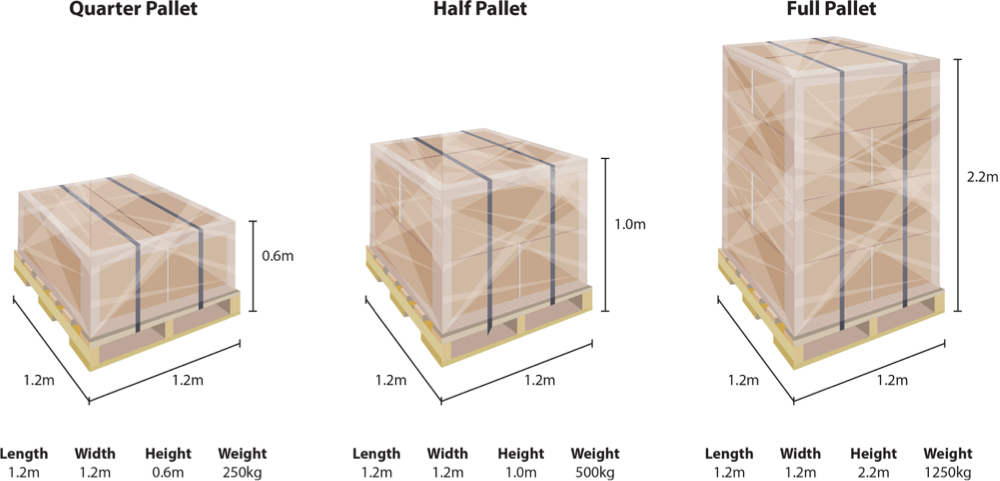 We can also take oversized freight which requires more than one pallet space. For freight which measures 2.6m or more in length or width, ask about our expert service TPN XL.
There are a few reasons we think TPN is the best choice of network for us, and for you.
Excellent service levels
Sector leading IT, TPN Connect. Complete visibility of your pallet even on your mobile phone with TAPP. If you have an iPhone, download TAPP here.
Unrivalled postcode coverage and national service.
All Member operations are to ISO 9001 every year.
Purpose-built Hub facilities in Minworth and two regional Hubs at Preston and Northampton.
TPN has links to Europe and Scandinavia, and TPN.ie, our sister network in Ireland.
You can download TPN's customer brochure here. You can also find out more about us on our website, or follow us on twitter. Customers are welcome to visit the Hub by arrangement with their local Member.
We also have customer resources, such as packaging or tail-lift guides here.
TPN – We are THE Pallet Network.